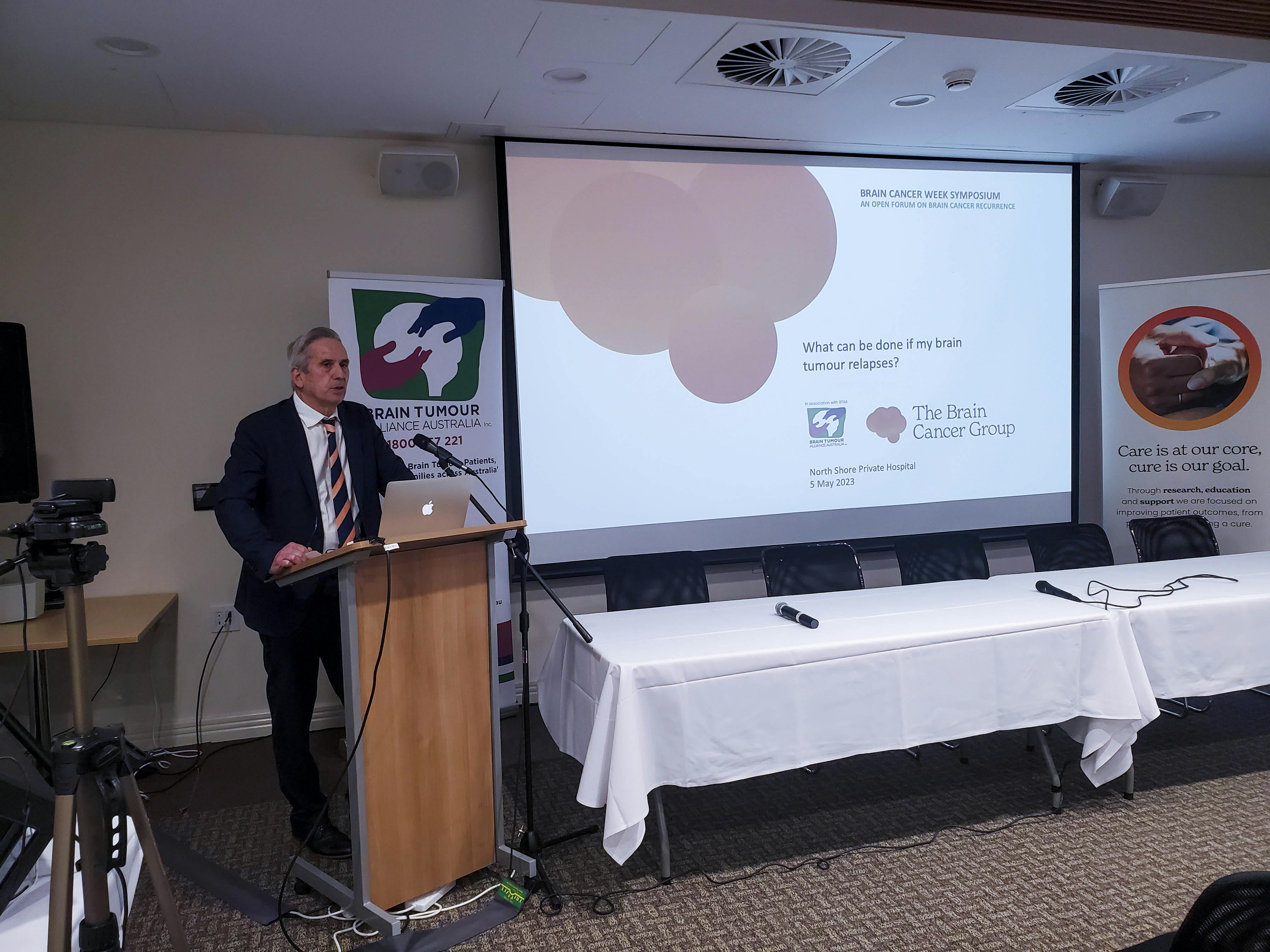 An Open Forum on Brain Cancer Recurrence
This May, during Brain Cancer Action Month, The Brain Cancer Group in collaboration with the Brain Tumour Alliance Australia (BTAA), will host a Symposium with the theme: 
 "What can be done if my brain tumour relapses?" 
When: Friday 5th May 2023 - 9:30am to 2.00pm
Where:  Education Centre. North Shore Private Hospital,
3 Westbourne Street, St Leonards, NSW
Free Parking Vouchers Available
Webinar option available for interstate attendees.

Watch the Presentations HERE

PROGRAM
SESSION 1
9.30am - Introduction by Marina Kastelan, Event Facilitator.
Neuro Oncology Nurse Practitioner, The Brain Cancer Group
9.40am - Dr James Drummond, Neuroradiologist RNSH
Is it really relapse, or could the MRI abnormality be an effect from treatment? 
9.50am - Dr Jonathon Parkinson, Neurosurgeon RNSH, NSPH
Is a repeat craniotomy and resection feasible?
10.10am - A/Prof Liz Hovey, Medical Oncologist POWH
Reintroducing chemotherapy at relapse. 
10.30am - A/Prof Michael Back, Radiation Oncologist RNSH
Timing and the risks of repeat radiation therapy. 
10.40am - Session 1 Q&A
11.00 am - Morning Tea Break
SESSION 2
11.40am - Dr Bridget Johnston, Palliative Care Physician, HammondCare/RNSH
Role of Community Palliative Care Teams in tumour relapse.
12.00pm - A/Prof Hao-Wen Sim, Medical Oncologist, Kinghorn Cancer Centre StVH
Emerging Potential for novel treatments in tumour relapse. 
12.20pm - Dr Megan Jeon, Post-doctoral research fellow, PoCoG University of Sydney
Identifying patient needs and dealing with uncertainty.
12.40pm - Session 2 Q&A

1.00pm - 2.00pm. Symposium Closing Remarks & Lunch
Watch the Presentations HERE