Matthew McCarron. 1981 - 2023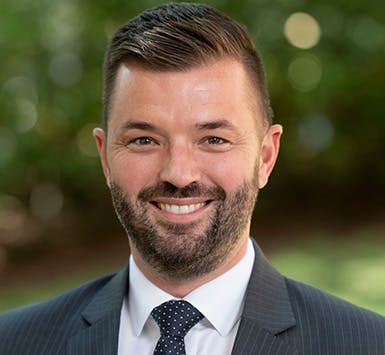 With a heavy heart, we announce the sad and untimely passing of beloved Matthew McCarron. As an Ambassador for The Brain Cancer Group, Matt was a selfless advocate while maintaining an active career as CEO of the Lewis Land Group and volunteering as Director of Carriageworks (Australia's largest multi-arts precinct). A generous spirit, he openly shared his experience of a brain tumour in detail on both personal blogs and as a guest speaker at a 2022 fundraiser in support of TBCG.
In a dignified, moving service dedicated to Matt, his husband Edmundo ended his tribute with the following words that ended Matt's speech at the 2022 Breakfast for Brain Cancer, organised by the White Pearl Foundation. "When you walk out of here today seek out the person that most supports you in life and tell them how much you love them. Call a brother or a sister…parent or relative…that you haven't spoken to way too long and tell them that you love them. Organise that BBQ with friends that you've been meaning to…but haven't had time to arrange…you won't regret it."
Our deepest condolences and love go to Matthew's husband Edmundo, son Elliott, mother Elaine, brother Dom, family and friends. Thank you, Matthew, you'll be dearly missed.
---
For Matthew, a seizure in the dead of night was the start of unexpected and unpredictable journey. An otherwise active and healthy 37-year-old, Matthew was rushed to Royal North Shore Hospital in Sydney, where subsequent scans identified a suspected brain tumour.
After consulting with several specialists on the pathway forward, Matt underwent a craniotomy performed by TBCG co-founder Dr Raymond Cook. Further tests revealed that Matthew had a high-grade astrocytoma and required chemoradiation treatment followed by chemotherapy delivered under the care of TBCG Directors, Associate Professors Helen Wheeler and Michael Back.
Throughout his treatment, Matthew has been able to maintain an active career. He has continued in his role as CEO of Lewis Land Group, one of Australia's largest and oldest privately owned property groups. He has also continued in several volunteer roles, including as a Director of Carriageworks, Australia's largest multi-arts precinct.
More information about Matthew's story is available HERE